Sporting Events Covered...
June 2019 Update
Girls Cricket
Our girls' cricket team travelled to Colne Cricket Club to take part in the Pendle Schools Girls Cricket Competition. They played four teams and sadly lost all four games, but represented our school really well! Showing determination and skills in trying to win their matches.
Orienteering
Six Year 6 children took part in an orienteering competition held at Alkincoats Park, Colne. The children were split into pairs and they had 20 minutes to find as many stations on the map as they could, then get back to the finish line. Our team scored 68 points and finished 9th overall.
Rounders
On Monday 17th June nine girls went to Pendle Vale College to take part in a rounder's competition. Many of our girls were taking part for the first time which allowed them to develop new skills and an understanding of the game. It was great to see the team work together. Better luck winning next time!
Girls Football - Final Report
Our girls football team went into the last round of fixtures with great confidence…something special was about to happen. In the first game we played St Joseph's and lost 2-0 but the girls worked really hard and showed skill and determination to try and get back into the game.
Then came two games back to back which brought us success - back to back wins! The first was won 3-0 with goals from Amina x2 and Hamnah. Then in the final game of the season we finished off with a 1-0 win, another goal from Amina.
It has been another fantastic year again for girls' football, with 30 girls attending the club and our team performing really well.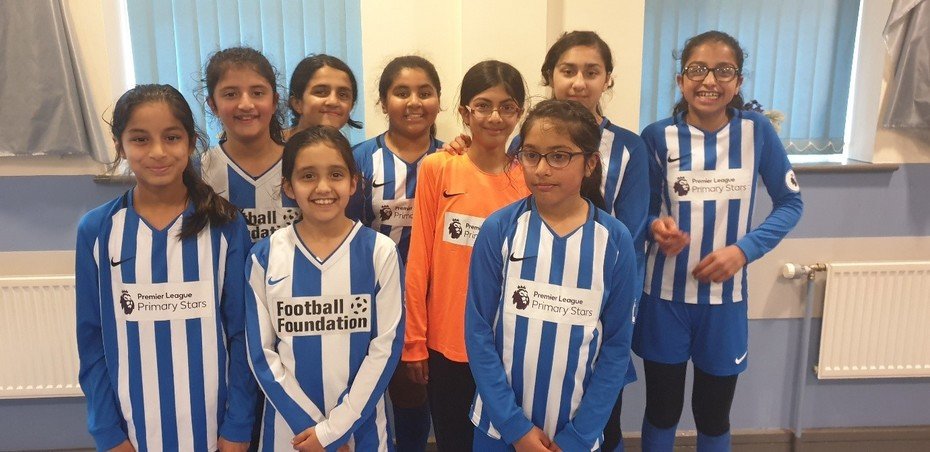 May 2019 update
Well done to our Dance Group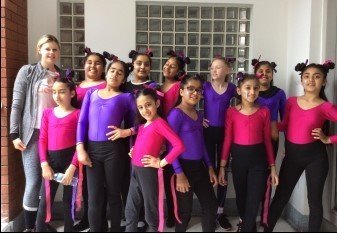 Eleven children from Years 4 /5 and 6 once again represented our school at the Lancashire Dance Competition in Preston. The theme this year was Diversity. Our children danced to mixed tracks from Oliver Twist to Jai Ho. They had an amazing time at the competition and did us proud! Each year you can see their self-esteem and confidence grow. When they came off stage, they wanted to go straight back and do it all again.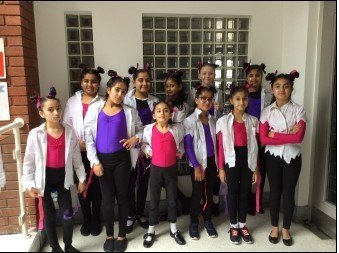 Girls Football
Our Girls' Football Team have had two rounds of matches in the Pendle Schools' League so far. They have played six games to date, winning one game against Gisburn Road and drawing with Wheatley Lane. Unfortunately, they lost four games against Earby, Blacko, Sacred Heart and Trawden but showed resilience and team spirit throughout. Over thirty girls have attended Football Club this year which is lovely to see. There final round of football takes place on Wednesday 12th June.
Netball
Our Netball Team has also competed in the Pendle Schools' League this year. This is a newly formed team who have improved week after week putting in some really good performances. Our overall finishing position was fourth out of nine schools. With over twenty girls attending Netball Club each week the future is positive.
Cricket
Our Year 5 / 6 Cricket team attended Colne Cricket Club on Tuesday 21st May to take part in the first round of the Pendle Competition. Like the other teams, the Marsden team won two games and lost one game. The standard was very high but the teams were fairly matched. The top two teams will qualify for the Pendle finals once all the scores have been collated and checked.
Golf
On Tuesday 21st May, the children who attend the Change for Life Club went to Pendle Vale to take part in a tri golf event. The children learnt skills linked to chipping and putting and took part in multi skill activities. They all had a really good time and enjoyed learning new skills. Inaayah in 4M was voted 'Player of the Day' because despite being left handed she tried to play with her right hand.
Swimming
During the holidays the children get a free swimming pass for Pendle Wavelengths. This entitles them to access the pool without charge during certain times of the day. It is a very important life skill so we are trying to encourage families to take advantage of this fantastic opportunity.
World Champion Inline Skater
Do you remember when Jenna Downing, a 10 times British Champion and a World Champion inline skater, visited our school to talk to us about having a "champions mindset."
She started off in a whole school assembly talking about her story and how she was kicked out of her local skate park for being a girl. How she went to her first competition and was the only girl entered out of 250 people. Although finishing last she carried on and tried again until she achieved her dream of becoming World Champion.
Jenna is the only female skater to have designed and sold her own skates, (all the money went to breast cancer care). Although Jenna suffers from MS, (Multiple Sclerosis), she has never let it affect her performance or her determination.
Jenna did a demonstration where she jumped over Mrs. Thompson... then added Mrs. Shepherd and then she added Mr. Martindale!
Jenna worked with every class emphasising that by never giving up in sports, school and life... your dreams, no matter how big, can be worked towards and eventually achieved.
Boxing Club - Lads & Dads Event. Check it out below...
March 2019 update
Girls Football Final
After qualifying back in November, our girls football team once again travelled too FisherMore High School to play in the Pendle Schools Final. We started off with a match vs. Park Primary who eventually came out as overall winners, we lost that game 2-0. We then went on to play Christ Church and drew 0-0 and in our final game we beat Laneshaw Bridge 1-0 to finish 2nd overall.
It was a fantastic achievement to reach the final so to finish 2nd is something that the girls should be really proud of.
The girl's football league starts on Wednesday 1st April where we will aim to build on our successes over the last few years.
Athletics B Team Competition
Twelve Year 5 pupils went to Pendle Vale College to compete in a indoor athletics competition. Our children took part in two field events chosen from available categories including: Javelin; Standing Long Jump; Standing Triple Jump; Chest Push; Vertical Jump and Speed Bounce.
Once complete, all the field events were cleared as it was now time for the track events. Our athletes competed in the: 1 lap sprint relay; 2 lap sprint relay; 6 lap paarlauf and a relay event featuring all members of the team. These events were split into boys and girls with the overall winner being determined by the number of points gained.
Our girls team finished 2nd with 264 points and the boys team finished 4th with 258 points. Overall we finished 3rd with 522 points.
This was a fantastic achievement by our Marsden team who were all Year 5 pupils...the majority of other teams had Year 6 pupils!
Well done to all involved.
Badminton
Twelve pupils from school travelled to Nelson and Colne College to take part in a badminton event which was made up of a competition element and also a fun participation element where competitors would receive some extra coaching.
In the competition we had two teams made up of four people (2 boys and 2 girls).
Marsden A got off to a winning start beating Wheatley Lane but was then beaten by Gisburn Road. Marsden B lost to Gisburn Road and Earby in the opening two games.
Then came the big one: Marsden A vs. Marsden B... it was the A-team that came out on top which meant that they finished in 3rd place and Marsden B finished in 4th Place overall.
A fantastic achievement as everyone has been working hard in Spring Term 1 to improve their Badminton skills as well as attending Badminton Club.
So, all that hard work and practice was really pleasing to see throughout the competition, as was the sportsmanship of all Marsden children who took part.
*